Why Mobile Learning in the Classroom?
Did you know that 94% of Americans under the age 45 have a personal learning device that could greatly enrich the way teachers teach and students learn? Unfortunately, many school district ban mobile learning devices. It's time to embrace this technology and use them as powerful learning tools that can enrich our classrooms. Banning them was the easy call to make, but as cell phones have become more sophisticated, powerful, and even more entrenched in students' daily lives, a growing number of schools have decided to open the door to what are, essentially, mobile computers!
Handouts 
Ideas to Engage your Student's 
Cel.ly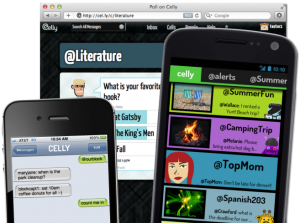 •Texting :: Questions, Announcements, Homework
•Students can be provided with various concepts to explore or research.
•"Text a friend"- Bring the world into the classroom.
•Send reminders to an entire class or individual students.
•Students and parents can text their teacher if they have a question.
Video:
 How to use Cel.ly guide?
Ice Breaker: Cell Sharing
Separate class into smaller groups.
Ask participants to locate a photo, song, or video from their mobile device that best represents them.
Each person then shares with the group his or her media and the reason it was selected.
Also inform them that they will be asked to report via a group texting service what they liked, what they discovered about their group members.
 My Big Campus gives schools an engaging, collaborative online environment. The dynamic content and collaborative technologies that have been traditionally blocked are now available to safely engage today's students.
A resource library with videos, blogs, wikis, web sites, and more
A suite of collaboration tools, including groups, walls, blogs, and messaging
Classroom management tools like assignments and calendars
Poll Everywhere replaces expensive software with standard web technology. It's the easiest way to gather live responses in any venue: conferences, presentations, classrooms, radio, tv, print — anywhere. And because it works with texting, web, or twitter, its simple and flexible to use in the classroom.
Socrative is a smart student response system that empowers teachers by engaging their classrooms with a series of educational exercises and games.
Their apps are super simple and take seconds to login. Socrative runs on computers, tablets, or smartphones.
SoundGecko is a text-to-audio transcribing service that lets you enjoy written content from around the web on the go without distraction.
Be free from screens as you listen to articles by simply sending an email or pressing a button in your browser.
Connect your Google Drive or Dropbox account and SoundGecko will automatically place a copy of the MP3 audio file on your cloud drive so you can listen at home, at work and on your mobile.
Quick Response Codes are just bar codes….
I use Goo.gl URL Shortener for Google Chrome Extensions. This handy extension lets you shorten URLs with Google URL shortener from the browser itself.
You can also use a separate website such as http://qrcode.kaywa.com/ to generate QR codes.
For a Classroom Teacher: Save you time, paper, and provide a link for students while doing classwork or homework
Ideas to Use QR Codes 
QR Code Scavenger Hunt
Multimedia worksheets or notes
Extend Learning for more information
Cover page for portfolio
Take them to a website
Create an interesting station lesson
Link a QR code to a Dropbox file
Create a virtual museum
Give students a QR code to a list of useful website with a lesson
Link a primary source document to it's location
Apps to Organize your Student's 
My Homework 
With myHomework you can easily know what's due and when so you will never forget a homework assignment again.
myHomework is also available on the web so you can quickly sync and access your homework from your computer at myhomeworkapp.com
The free app includes: Track your classes, homework, tests, assignments; Time & Block based class schedules; Beautiful calendar display; iPhone Retina display support;  Multitasking support; Universal (Both iPhone and iPad)
Easily manage your academic tasks & assignments and sync them into Evernote. 
Everstudent lets you keep track of your daily academic tasks with a simple yet elegant planner interface, while synchronizing with the greatest note-taking software, Evernote
Features: Organize your tasks and assignments by class; Add color codes to classes to organize and filter your assignments;  Add instructor, phone, email and other notes to classes and assignments;  Group your classes by semesters or terms;  Sync (one-way) your assignments and classes to Evernote to access them from any device or computer and to share with friends and family
Create MLA, APA, and Chicago style citations by scanning a book bar code or by typing the name of a book.
Build and manage your works cited then email your citations and export them to EasyBib.com.
Free version available on the iPhone, iPod, and iPad..
Apps to Organize Any Teacher 
Wunderlist 
Download Wunderlist, our free cloud-sync task manager, and share your lists with friends and colleagues.
The Wunderlist mobile app for iPhone and iPod Touch will boost your productivity. Organize your to-do lists on the go and synchronize them with your free Wunderlist account.
View and modify your tasks on Windows, Mac, Linux,iPad, Android and the Web. Hundreds of thousands of people worldwide use Wunderlist everyday. Wunderlist – your tasks anywhere, anytime.
Smart Seat
We love efficiency, simplicity, and productivity. We know your time is valuable. And we believe using paper for your seating charts is absolutely crazy!
Personalize seating chart: show student nicknames, full names, or photos plus nickname.
Record attendance by simply tapping on the student to mark Absent, Tardy, or Excused. Default state is Present.
Choose students at random for class participation and class discussion.
Use the "flashcard" feature to quickly learn student names. Toggle between photos and names by tapping on the class title at the top of the seating chart.
Tap on a student to access attendance history, notes, and to load a photo using your mobile device's photo album or camera.
Create text, photo and audio notes that auto-synchronize your notes to your Mac orPC.
Makes text within snapshots searchable. Add, sync, access, and share files (PDF, Word, Excel, PPT, and more) among the different versions of Evernote.
Free version available on iPhone, iPod, Android, and Blackberry
Collect RSVPs, run a survey, or quickly create a team roster with a simple online form. Then check out the results, neatly organized in a Google spreadsheet.
I use Google Forms to create rubrics, collect sample student data, parent responses, and so much more. Here is a previous blog post with sample google forms I use in my classroom.
All your form data is automatically saved in Google Spreadsheets and stored in Google Drive. Access them wherever you go, from any device.
Video: How I use Google forms as rubrics in my classroom?
GradeCam
GradeCam is online software/application that allows teachers to scan grades directly into the gradebook that they are already using.
Grade tests and quizzes with any document camera or web cam.
Transfer scores, analyze results of exams, share results, and give students immediate feedback.
CamScanner turns your phone into a scanner and Fax. With CamScanner, you are able to digitize any paper documents by photo shooting.  
Simply take a picture of any paper documents such as receipts, whiteboards, notes, agreement and so forth, and CamScanner can auto-crop image, enhance image quality and create a PDF file.
The scanned documents can be shared via Email, faxed via Internet, uploaded to cloud like Dropbox, Google Doc, Box.net, and managed by tag, copy, move or search.
Google Voice gives you one number for all your phones — a phone number that is tied to you, not to a device or a location.
Use Google Voice to simplify the way you use phones, make using voicemail as easy as email, customize your callers' experience, and more.
Google Voice works with mobile phones, desk phones, work phones, and VoIP lines. There's nothing to download, upload, or install, and you don't have to make or take calls using a computer.
Useful Websites/Tools 
Twitter (#sschat) has truly become one of the most inspirational ways I have created my own profesional learning community. Every Monday night at 7 PM EST teachers from around the country log into their twitter accounts and follow the hashtag #sschat. Every week there is a new discussion prompt or topic. It's pretty AMAZING to say that I connect with hundreds of AWESOME social studies teachers from around the country EVERY week… actually everyday. Video about Twitter's #sschat
Teaching Generation Text- 5 Steps to Enhance Learning with Cell Phones Blog Post 
10 Proven Strategies to Break the Ban and Build Opportunities for Student Learning with Cell Phonesby George Engel, Rob Griffith, Scott Newcomb, Lisa Nielsen, Jason Suter, and Willyn Webb
The NY Times article, "Teaching to the Text Message", by teacher Andy Selsberg offers a variety of ideas for using text messaging in assignments.
Here we have an eHow article, "Text Messaging Classroom Activities" that offers 4 different assignments based on text messaging.
Can Cellphones Be Educational Tools? by Katherine Schulten
The Innovative Educator by Lisa Nielsen
50+ Effective Mobile Learning Tips and Resources [PDF]– By Shelly Terrel
10 Reasons To Consider Mobile Learning – Points Made By Chris Thomas, Chief Strategist For Intel
Learning in Hand is a resource for educational technology by Tony Vincent. From netbooks and web applications to iPods, iPads, and podcasting, Tony has put together practical information for educators.