I am running a professional development session after school this week about digital ways to engage your students in their own learning. These are a few of my favorite apps or web-based programs that I plan to introduce at the workshop.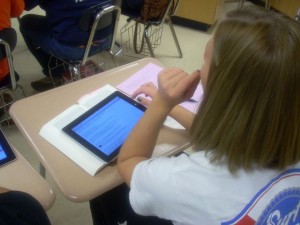 Infuse Learning:

(online) Infuse Learning allows teachers to push questions, prompts, and quizzes out to students' devices in private virtual classrooms. This is wonderful for a quick assessment or review activity on the spot. My student's love the draw something feature where I give them a vocabulary word and then they draw it and send it to my screen. I have done this with AP and regular US history, both courses had wonderful results.
Socrative: (online or app) Socrative is a smart student response system that empowers teachers to engage their classrooms through a series of educational exercises via smartphones, laptops, and tablets.  This is great for a quick assessment or review game. For sample teacher codes visit: http://goo.gl/3CRiV

  

 
Gooru

-:(online or app)  Gooru Collections allow any user to have access to more than 3,000 educational materials. The website is organized into playlists and is designed for every 5th-12th grade student. The options are endless from videos to games, to digital textbooks, useful teacher approved websites, quizzes, and so much more.
Today's Meet

: (online) helps you embrace the backchannel and connect with your audience in realtime. Encourage the room to use the live stream to make comments, ask questions, and use that feedback to tailor your presentation, sharpen your points, and address audience needs.  I use today's meet to have my student's back-channel during a classroom debate, video, or resource sharing session when I do not want "verbal" discussion.
Skitch

:  (online or app) Get your point across with fewer words using annotation, shapes and sketches, so that your ideas become reality faster. This works well in groups. I assign each group a different topic and they need to create Skitch slide about that topic. They send their slides to me or their mirror their ipad through the Apple TV and teach the class about their topic.
Evernote:

(online or app) Evernote lets your take notes, sync files across your devices, save webpages, capture inspiration, and share your ideas with friends and colleagues.  There are so many wonderful ways to use Evernote for file sharing, lesson plans, digital portfolios writing submission. The ideas are endless!
Animoto

(online or app) or iMovie (app) Create a digital movie with photos and text slides.  Remember to create a teacher account. For sample projects and handouts http://goo.gl/aCntL
My Big Campus (online or app) My Big Campus extends the classroom to a safe, engaging online environment that balances educational use of Web technologies with network and student.
Useful Resources
-Ipads In the Classroom by Annalisa Kelly Itunes Store. Free ebook http://goo.gl/nWcVh