Share My Lesson is an interesting resource for any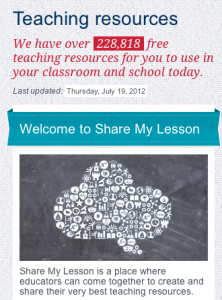 educator to collaborate, connect, and share with our teachers. It is a FREE website that gives teachers access to teaching resources such as worksheets, learning materials, lesson ideas, activiities, and lesson plans. The lessons are divided by grade level, subject, and unit.
Start using the site today with your TES login. Simply enter your TES username and password and then accept the Share My Lesson terms. Do so before 31 July and you'll be entered automatically into a prize draw to win the new iPad!*
The website also connects teachers to an online community to build your PLC. Share My Lesson was developed by the American Federation of Teachers and TES Connect, the largest network of teachers in the world. Check it out today and improve your teaching repertoire!
As a US educator Share My Lesson offers you: