Thanks to Justin Stallings, my blog has featured a bunch Evernote blog posts (see the previous posts listed below). Evernote is by  FAR one of the best tools I use on a daily basis in my classroom: from lesson plans, to file sharing, to assignments, to bookmarking….

the ideas are endless. After co-hosting #sschat a follower asked me to explain how I had my students create digital portfolios using Evernote.
Why a portfolio? 
A portfolio is really useful way to store projects, writing samples, and student-centered learning. It can be used by students, parents, and teachers to document progress and learning in the classroom. Portfolios allow students to reflect, share, and document their own learning. This summer I planned a really awesome senior project where my students took a problem with the government, researched it, conducted their own research, and presented a solution. The cumulative project was a portfolio documenting their progress: including a research paper and a documentary film about their topic.  You can view the project here. This summer I transitioned from the idea of doing a paper portfolio to a digital one using Evernote as the primarily system for creating portfolios in my classroom.
Why Evernote?
As I was researching options to create digital portfolios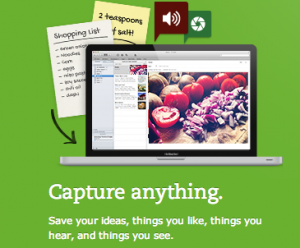 Evernote naturally came to mind due to its ability to sync with any device,  as well as be accessed from any internet browser. The Evernote app allows students to easily capture and document their portfolios from any device including iPods, iPads, or their mobile device.  Evernote is free, has an app for every device, and is easy to use. Check out Evernote.
How do you use Evernote as a digital portfolio?
Evernote as a Lifelong Learning Tool
One of the best features of using Evernote is that it allows students to take their portfolios and share them with the world! Evernote allows the student to be in control of their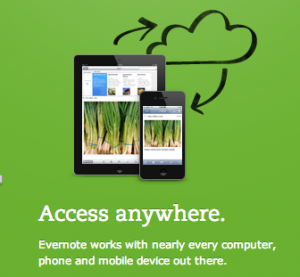 own learning in terms of sharing, documentation, and ultimately reflection. Instead of digging out files from a basement, my students will be able to digitally carry their milestones and accomplishments with them. They can watch as they progress into lifelong learners and the ownership placed on the student. It is a very valuable process to observe and as a teacher it is so rewarding to see your students be excited about their learning. 
Previous Evernote Blog Posts
Please see Justin's posts in the Evernote for the Social Studies Series:
Part 1: Evernote for the Social Studies: What is Evernote
Part 2: Evernote for the Social Studies: Evernote in the History Class
Part 3: Evernote for the Social Studies: Evernote and Skitch
Part 4: Evernote for the Social Studies: Lesson Planning with Evernote
Part 5: Evernote for the Social Studies: Evernote and Study Blue
Evernote for Educators Livebinder