Want to make your life easier with the first week back at school? This is the product for you! It's a print and ready to use 15 complete lessons for the for the Constitutional Underpinnings Unit for AP United States Government and Politics.
There are over 100+ individual products in ONE package! It includes full lesson plans, student activities, projects, tests and quizzes, videos, and all other needed materials to implement the lessons. Includes cooperative group activities, centers, readings, games, videos, tests, and so much more. I teach with the 55 minute period for the full year. I am a very organized teacher. It can just be printed and ready to go. No modification needed or you can modify if you want to.
This is a HUGE file over 100+ items, so be prepared for a large download! Each folder has multiple folders included an extra folder, tests, and each unit is organized in number order that I taught them. Each lesson was designed in word and power point and can easily be modified and downloaded for your students.
This was updated for the 2018-2019 redesign. Organized and updated June 2019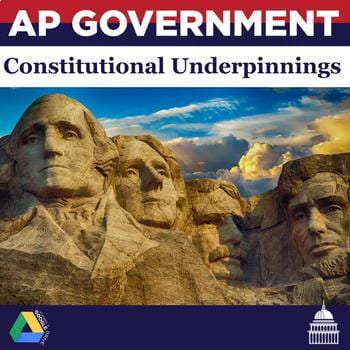 https://www.teacherspayteachers.com/Product/AP-Government-and-Politics-Constitutional-Underpinnings-Unit-2788583