As many of you know Cel.ly is on the top five lists of AWESOME programs I use with my students. It may even be # 1!!! No, I do not work for them, but I find it to be one of the most useful programs I use daily with my students to increase student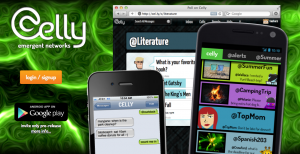 communication and collaboration in a safe and support environment. Cel.ly is changing the face of education!
What is Cel.ly?
According to the Cel.ly website, "A cell is our term for a mobile group network. Messages and polls sent to a cell are forwarded by Celly to specified cell members. In this way, Celly users can communicate and collaborate as a group in realtime using the immedicacy and convenience of text messaging. Additionally, from the Celly website you can send and receive cell messages, polls, and access other Celly features. Celly works with any regular phone that has SMS texting, or from any web enabled device; for instance, a tablet, smartphone, or laptop."
How I use Cel.ly with my classes?
I use Cel.ly to send text messages to my students with reminders, announcements, polls, questions, etc.
 Students can text me and ask me a specific question such as "what is on the test tomorrow?" or ask "what did I miss in class?" when they were sick. Cell phones have the potential to bridge the gap between the home, school, and social media world.
Video Demonstration: How to use Cel.ly?

Interesting ideas to incorporate mobile devices into your classroom
How can it increase parent communication? 
Last fall, I encouraged parents to join my text messaging classroom group. I was surprised with the results. Of my 55 US history students, 35 of their parents participated. Parents commented that they appreciated the text message reminders about homework & tests, updates about their child's progress, and even the in class texting activities. Parents are now more informed about how their kids are doing and are better able to help their children with their schooling, which is key to student success.
Previous Posts About Cel.ly