Sharing the web with students can be a major challenge. I sometimes use QR code generators or url shorteners to direct students to a particular website. I recently discovered Symbaloo EDU, which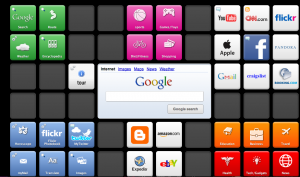 can be a wonderful resource for teachers and students to easily manage the web.  Symbaloo is a website that allows users to save favorite online tools, resources, and websites about any topic. Symbaloo also has a mobile application!
Symbaloo EDU can be published and shared with colleagues, students, and parents.   You can even create specific folders that contain the websites for each unit you teach. Students can now go to one page for research or extended learning. Symbaloo can be used all year, as a resource sharing website for your students. You can also add the book-marker to your browser, which can be helpful when searching and saving the web.
Here's a sample US History Brainpop Symbaloo