I try to incorporate as many primary sources into my teaching but I find it extremely difficult to find primary documents that are at my students reading ability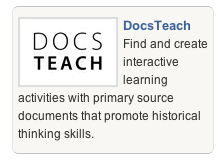 and interest level. It sometimes takes me hours to find the right document or documents to compose a lesson.
I recently discovered a great website called Teaching with Documents, which has reproducible copies of primary documents from the  National Archives of the United States. The website also offers activities that are correlated with the National History and Civics Standards.
With the common core standards history teachers have been given the valuable opportunity to use primary sources in their classrooms.  Next year teachers are going to devote instructional time to the close investigation of history texts as well as teach our students to construct their own understanding and analysis of the primary materials. Teaching with primary documents encourages critical thinking and encourages a varied learning environment; all of which can improve our students skills and enthusiasm for history.